10/18/03
After a long week of waiting, I finally got the header and the high flow catalytic converter installed. I was worried that the cat wouldn't be long enough and I knew there had to be some pipe work done, so I went to the most trusted place to perform exhaust modifications- Eastside Muffler. It turns out that the cat was a perfect fit in terms of length. However, the R Medalion flange didn't fit to the Carsound cat flange, so Joe, the guy that works at Eastside, had to cut off the beginning of the pipe and put on a new flange with different piping. I was actually glad that he did this because the piping at the beginning of the R Medalion cat-back bottlenecks, restricting exhaust flow. Other than that small mishap, the installation was very straightforward.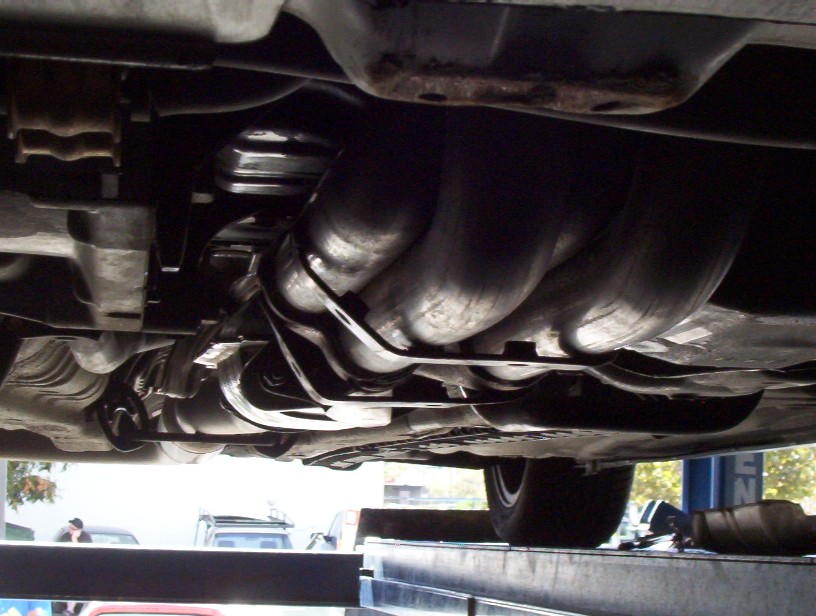 After the installation, I slowly drove the car out of the shop and towards the freeway, warming it up along the way. The exhaust wasn't any louder at low revs, but the sound was slightly raspy because of the increased exhaust flow. I then pulled over and reset the ECU so that it can be reprogrammed to accommodate to the new modifications.
I entered the freeway and began the long awaited test run. The car had reasonable gains in the low revs, but once VTEC was engaged, the motor wailed while the needle shot to redline. This area of the power band was where horsepower and torque gains were the most apparent. I wanted to stay in gear forever, but I knew that once I shifted I would enjoy the same experience all over again.

*I just want to thank Joe at Eastside Muffler for the great job and Ryan for the header and cat hookup.
10/11/03
Below are some pictures of the JDM Integra Type R 4-1 header and the Carsound 94066 High Flow Catalytic Converter Flow that I've picked up. The installation of these parts should considerably improve overall flow, functioning with the upgraded exhaust and intake system to increase horsepower and torque. I purchased the Racing Skid Plate because I was worried of scraping the header. The plate is made out of lightweight, aircraft-quality 6061-T6 aluminum and it covers the entire bottom of the header, protecting it from debris on the road. Updates about the improvement in power will be posted once I get these parts installed next week.